135 years ago Thomas Smerdon and his family were tenant farmers at Lincombe Farm, near Avonwick, Devon in England. The farm is still there nestling among the hills and narrow roads of Devon and is occupied by the great grandson of the landlord. In 1865 Thomas Smerdon died leaving his 30 year old wife Elizabeth with 4 small children - Thomas 6 years, Mary who also died soon afterwards, Henry 2 years and William 1 year. In about 1878 Elizabeth married a widower with his own children and in 1881 the Smerdon brothers, decided to leave Devon and set off in search of fortune. Thomas and Henry decided to emigrate to Australia setting their hopes in the new world, while William the younger brother went to London to try his luck there ...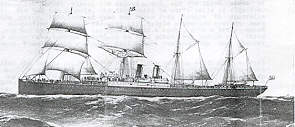 Thomas and Henry (Harry) left Plymouth on Saturday Oct. 29th 1881 on board the S.S.Orient. Thomas kept a diary of the voyage and daily entries over the next three years. The Orient was the flagship of the Orient Steam Navigation Company, and at 460ft long she was the largest (excluding the ill fated Great Eastern) ship in the world at that time. With a compound steam engine, 2 funnels, 4 masts to carry sails, she could cruise at 15 knots and carry 120 first class passengers, 130 second class and 300 third class, to Australia without re-coaling. Thomas and Henry travelled in third class cabin number 129.

Thomas describes the daily life on board, with cards, music and dancing in the 3rd class dining room. They anchored in Naples to pick up mail, and at Suez raced a rival P&O ship the Carthage with bets placed as to the faster - it was so hot in the engine room that one of the stokers died from the heat. An elderly women died of heart disease 'bought on by excitement caused by being accused of pilferring' which Thomas records was generally believed to have been a false accusation. They arrived at Port Adelaide, Australia, on Sunday Dec. 4th 1881 to begin their new lives. Jobs were evidently not hard to find as by Dec 12th both brothers had jobs - Henry became a builder, and built a house for his brother in Glenelg where Thomas's youngest grandson still lives.
Thomas Smerdon (1859-1930)
Some three years after their arrival Jessie Luscombe travelled out from England to Australia to become Thomas's wife. By a strange co-incidence she not only travelled in the same ship but in the same 3rd class cabin No. 129 that her husband to be had shared with his brother 3 years before. They never did return to England, but today there are many Smerdon decendents in the Adelaide area. On Oct. 31st 1993 over 50 decendents of Thomas and Henry gathered together in the grounds of Partridge House, Glenelg organised by Dorothy Blair (descendant of Thomas) and Michael Smerdon (descendant of Henry).

William travelled to London from South Brent on the Great Western Railway. He did indeed have some measure of success working first as an apprentice draper and then serving 38 years in the fur department of Dickins & Jones department store in Regent Street. The fur trade was in those days highly regarded and a glowing summary of his career is recorded in the British Fur Trade magazine of Feb. 1927 on the occasion of his retirement. He corresponded regularly with his brothers by mail - the last letter is dated 1941 shortly before he died and 60 years after he had last seen them. William Smerdon (1864-1941)
In 1881 the fastest mail took 30 days from England to Australia. This web page can be read in Australia seconds after it leaves the server in London. For all this speed of communication - is the world a better place?
Written by Simon Begent (great grandson of William).